Oil produced by the cells helps in keeping your skin healthy, but when this oil secretion is in excess it will lead to blemishes and acne formation on your skin. Fortunately, there are plenty of natural home remedies to treat the oily skin types. Here are the best picked face masks that will help you contain the excess oil from your skin cells.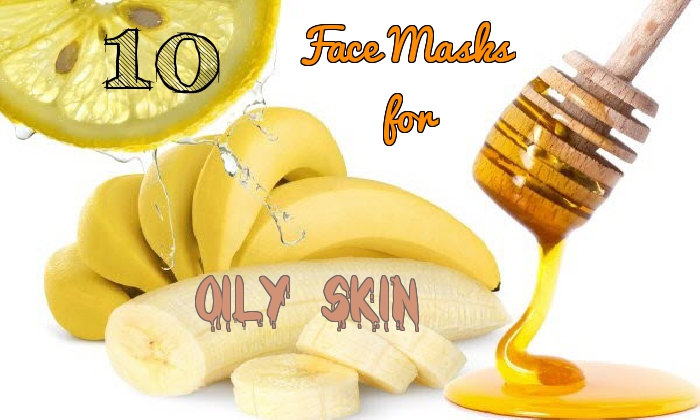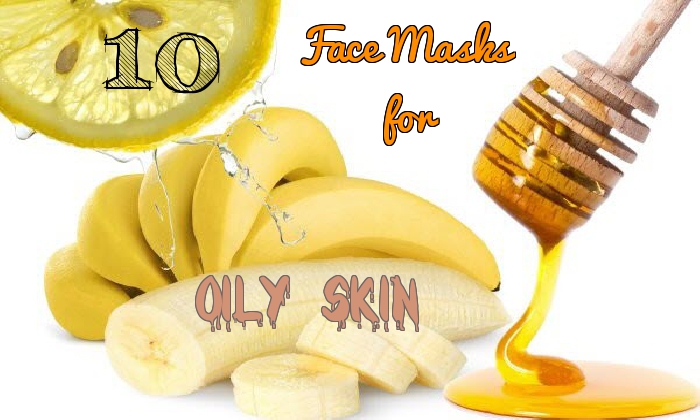 Banana face pack for oily skin
Bananas are packed with vital vitamins that protect the skin from free radicals. Hence it is a highly efficient remedy for an oily skin.
Take one full ripe banana and cut into small pieces and put them into a deep freezer for an hour or two.
Now take out the frozen bananas and blend them into a smooth paste using a blender.
Clean your face well and apply this face pack instantly over your face.
Let it sit for 20 minutes and then slowly rinse it with a soft, warm absorbent washcloth.
This face pack will make your face look clear and free of oil.
Honey and sugar face scrub to unfasten dead skin cells
With its high levels of nutrients and antiseptic properties, Honey can be used to lighten the skin tone and remove excess oil from it. Sugar has been used as a scrub for over a long time to remove the dead skins from the face.
Combine a teaspoon of sugar with 2 teaspoons of honey.
Use a cotton ball and scrub off the dead cells from your face slowly.
This scrub must be used before the sugar gets entirely dissolved in the honey, only its crystalline nature will help in removing the dead cells.
It can also be used to remove the darkness around the lips.
This mask helps in the production of new cells, thereby removing the oil and dirt from your face.
Banana, Honey and lime peel off for oily skin
Take one ripe banana, one tablespoon of honey and 1 tablespoon of freshly extracted lime juice.
Make a paste with the ingredients using a blender.
The paste will be very sticky owing to the addition of honey.
Apply this paste as a thick layer evenly on your face and let it dry completely.
Once it is dry you can peel off the mask easily.
Wash the face with a mild face wash after peel off and pat dry.
This peel off will help in removing the excess sebum present in the skin, thereby giving you a radiant and fresh looking skin.
Oily skin face pack from Fullers earth or multani mitti
Fuller's earth or multani mitti has been used as a face pack for oily skins for over thousands of years in the Indian subcontinent. It is naturally occurring clay that is rich in zinc, silica, iron, magnesium and oxides. A simple but effective face pack can be made out of it.
Take 2 or 3 tablespoons of multani mitti
Make it into a paste by adding cold rose water to it.
Apply this mask over your cleansed face, avoiding the areas around the eyes.
Let it dry for 20 minutes and wash off with adequate warm water.
This pack helps in increasing the dryness of your skin. It is only suitable for oily skins as it heavily absorbs the oil from it.
Yogurt and Besan face pack to clean your skin pores
Besan or gram flour is rich in alkalizing nutrients that attract toxins and oily dirt that are lodged deep into the pores of your oily skin.
Take half a cup of gram flour and required quantity of yogurt to make a paste out of it.
Apply it over your face and let it sit for 20 minutes.
Wash off with plain water and do not use any soaps for washing.
This face pack will act as a total cleanser by absorbing the oil and dirt from your face. This mask can be applied daily to obtain a clear and radiant skin.
Oatmeal and Milk face mask to brighten your oily skin
Oats are highly absorbent in nature and hence they help in exfoliating, softening and soothing the skin. When added with milk oatmeal helps in brightening your skin.
Take 2 tablespoons of finely ground oatmeal and about 2 table spoons of raw milk.
Make a paste out of it by adding excess milk if required.
Apply this pack on your face, excluding the eyes and lips.
Let it sit on your face until it is completely dry.
Scrub your face gently using your fingertips and warm water. Then wash off the pack and pat dry your face.
It helps in moisturizing your oil prone skin and helps in increasing the skin tone.
Papaya face mask to exfoliate dead cells from skin
Papaya is a wholesome nutritive fruit rich in Vitamin A and vitamin C. It also has an enzyme called papain that removed dead cells and cures skin ailments.
Take a fully ripened papaya and cut into small cubes.
Mash these cubes using a spoon or your fingers.
Apply this mask all over your face and neck.
Wash it off after it is fully dried.
This mask in addition to treating skin blemishes and oily skins also helps in skin firming.
Egg white and lemon face pack to reduce excessive oil
Egg white helps in shrinking the pores in your skin and thus reduced the excess oiliness from it. Lemon hydrates and exfoliates your skin. Hence the combination of both can be used to fight oily skins.
Take an egg white and beat it until it turns frothy.
Add freshly extracted juice of half a lemon to it.
Mix the contents evenly and apply it all over the face and neck.
Wash it thoroughly using a mild soap and pat dry with a clean towel.
Cucumber, egg white and lime face pack for skin moisture
Cucumber is rich in silica that helps to strengthen skin tissues and also provides good moisture to them. It reduced dark spots and increases the skin tone and tightens the open pores.
Take half cucumber, 1 egg white and the juice of half lemon.
Make a puree out of the ingredients.
After the mixture is well blended, place it in a refrigerator to be chilled.
Then apply the mask to your clean face and let it set for 15 minutes.
Wash off the mask using warm water.
This face mask helps in rejuvenating the skin cells and restores the dying cells. It cleanses the clogged pores and remove excess oil from them.
More to be added soon.