Every one of us needs a glowing flawless skin. We tend to go for the leading cosmetics in the market and get an artificially improved skin, but with many side effects. They tend to act harsh towards our skin and easily lead to ageing effects.  Some simple and effective natural remedies can be followed to obtain long lasting freshness and glow to our skin. These natural remedies are also without any side effects and helps in the improvement of both mental and physical health.
7 Home Remedies for Radiant skin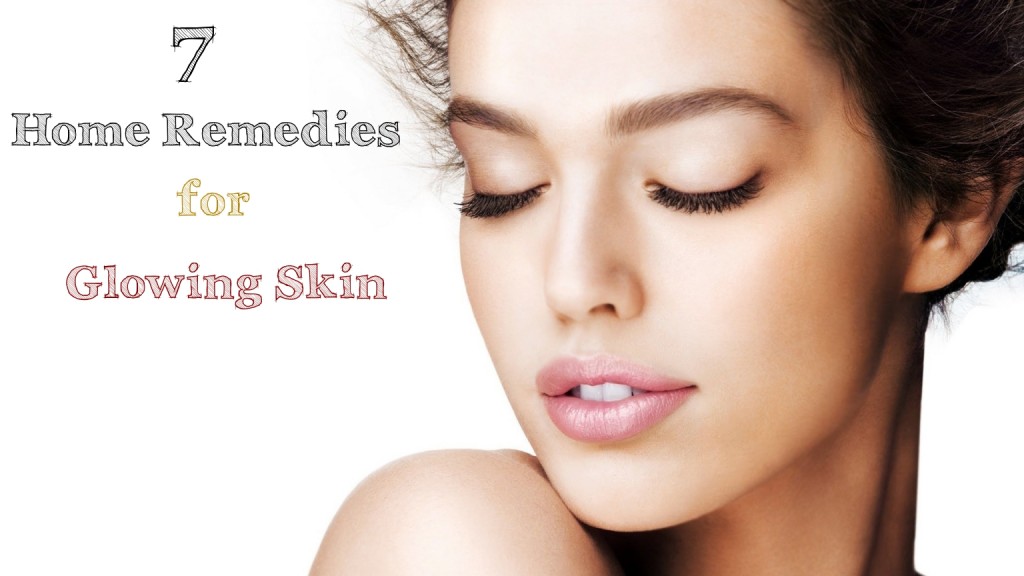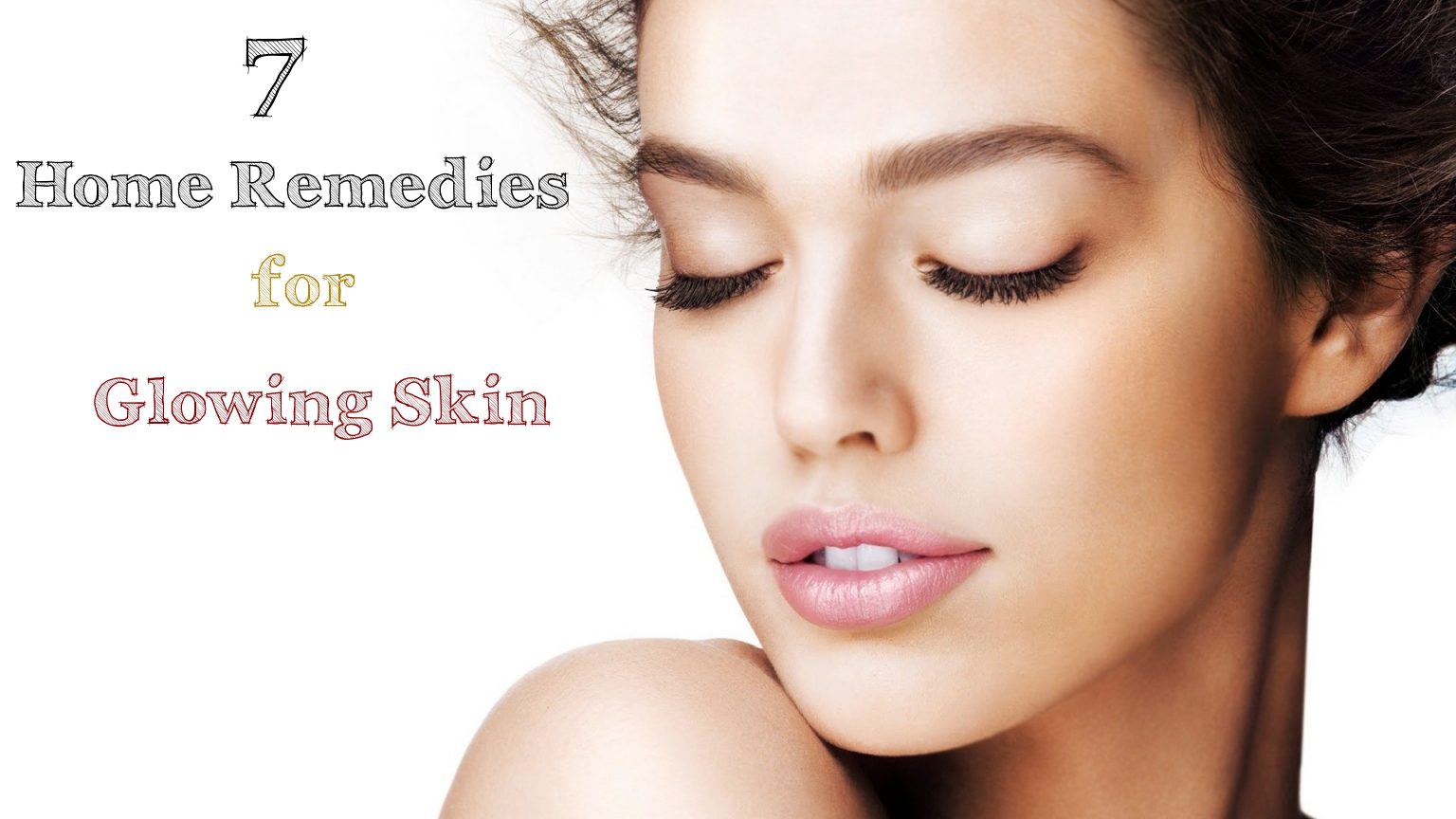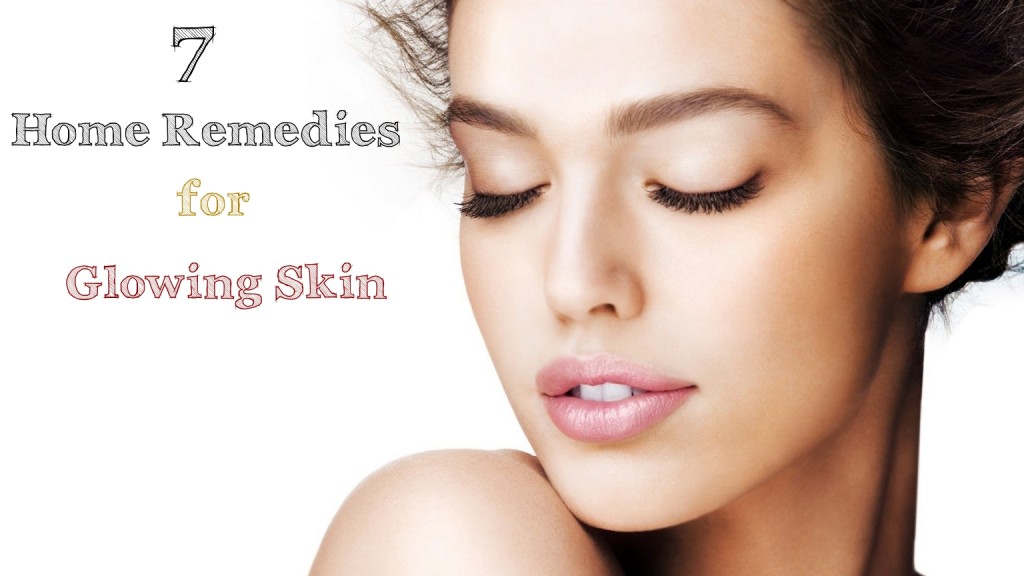 Water therapy to hydrate your skin

About 60% of our body is composed of water. It helps in the functioning of cells and keeps our skin hydrated. It is the easiest way to get a glowing skin for a long lasting time.
Drink 6-7 glasses of water, approximately 1.5 liters early in the morning before your usual tea of coffee.
Avoid over eating on the previous night.
Throughout the day try to consume a minimum of 3 liters of water by reducing your calorie intake.
By doing this we can get a bright and radiant skin naturally, as the cells will stay hydrated always. This also helps in removing all the toxins from our blood, cleanses our colon and increases nutrient absorption.
Eat ample fresh vegetables and fruits to flush the toxins

Consuming fresh vegetables and fruits will greatly help in flushing out the toxins from our body, thus giving way to a clear and healthy skin. The nutrients and minerals in the fruits and vegetables are supplemented to our body as a whole without any breakdown. Hence it also leads to proper nutrition and healthier digestive habits. Some fruits and vegetables like;
Amla or Indian gooseberry
Carrot
Apple
Lemon
Spinach
Tomato
They are rich in Vitamin A, C and E. They help in wading away the bacteria from our skin and also slow down ageing. They can also be consumed in the form of fresh juices in between our meals. Carrot lime juice is the best liquid intake that will instantly energize our dull cells. Simply blend one full carrot and freshly extracted juice of one lemon and drink the content sugarless. This will give instant glow to your skin and refreshes you from the inside.
Amazing effects of Honey as a skin moisturizer:
Honey is a natural skin moisturizer and can be used for both external and internal applications. It is also a great supplement of vital minerals and vitamins. It is rich in anti-oxidants and helps to maintain our body fat. Honey can consumed alongside fresh juices or in an empty stomach early in the morning. This helps in pushing out the toxins from our cells, thus leading to their good and healthy functioning. Honey with lemon and water when consumed daily in empty stomach gives you the best results. It gives a natural glow and also helps in increasing your skin tone.
Coconut oil as a lustrous shield for your skin

Coconut oil is a natural antibacterial, anti fungal, and anti-inflammatory agent. When applied to the skin, it will penetrate into the deep layers of tissue eradicating any underlying infection that is contributing to the dullness of skin. Likewise, the oil can be used internally with the same effect. Coconut oil is also a particularly effective skin conditioner and so it naturally eliminates dryness and irritation.
On dryness affected areas of the skin, coconut oil can be used as a lotion. This will greatly help by naturally healing and restoring the skin.
Egg white face mask for instant skin glow

Egg whites are a rich source of protein. They also have sodium, calcium, magnesium, etc. it also contains vitamin A that is highly essential for skin cells. So an egg white face mask can give you instant glow
Take an egg white and beat it until it forms frothy.
Cleanse your face well and apply this mask.
Let it sit for 20 minutes.
Then wash away with warm water and a mild soap.
Get some physical exercise and Yoga
Workout is not about shredding weights, it is also essential for removing the toxins from our body and having a good health. Through exercises our cells excrete the unwanted toxins in the form of sweat. Thus it also results in giving a healthy glow and radiance to our skin cells. Exercise helps in reducing the body wide inflammation helps regulate blood flow and prevents free radical damage. By exercising the tiny arteries in our skin will open up and more blood will rush up supplying them with oxygen.
Practicing yoga can help us obtain a glowing skin by regulating our emotional stress and cleansing our body. Some important asanas include
Padmasana or lotus pose: Sit on a mat and bend your right leg at the knee. Place your foot on your left thigh and heel closer to the stomach. Do the same with the other leg. Make sure your spine is erect and sit in this position for 2-4 minutes.
Dhanurasana or bow bend: By lying flat on your stomach fold your knees inwards and hold your ankle. Focus on breathing and stabilize your body by stretching your neck.
Many other yoga poses could also be learnt under proper guidance and followed daily for healthy looking skin.
Lemon Honey face mask for skin exfoliation

Lemon has alpha hydroxyl acid that helps in exfoliating the skin while honey is rich in antibiotics that helps in absorbing the dirt from the skin pores.
How to make:
To prepare this mask take 2 tablespoons of raw honey with 1 tablespoon of fresh lime extract. Mix until the ingredients are well incorporated and apply this mask over your face and let it sit for 20 minutes. While washing wet your fingers in warm water and using small circular motion remove the mask from your face. Rinse and pat dry your face. By doing this regularly you can get a radiant glowing skin.
Some easy tips to note:
Mixing together cucumber juice, glycerin and rose water is very effective against sun tan. Use it before stepping out in the sun and after returning to avoid sun tan.
If applying coconut oil do not step in sunlight, as the UV rays may break down the oil and make your skin appear dark.
Banana mixed with honey can be used both as a face mask and as edible delicious fruit salad. It removes the dirt from your skin cells.
Get some professional guidance before you begin practicing yoga.