Blackheads are one more mentionable part of skin impurities which hamper our entire look badly. It is a tiny part that finds in the hair follicles of our skin.  Blackheads basically occur when those hair follicles become blocked by some dirt, dead cells or oily extracts.
After clogging the follicles, the top surface of those impurities become black and appear as tarnish layer to your skin. If you don't exfoliate them properly, they could lead you towards an unhealthy and hideous skin type later!
It has been observed that the alpha-hydroxy acid of lemon prevents those impurities into blackheads, the citric acid tightens the pores, exfoliate your cells gently and enhance the skin tone effectively.
Lemon is also skilled in maintaining a proper alkaline balance to our skin that controls the excess oil and reduces the possibilities for attracting dirt or pollution naturally.
You can use lemon juice(1) with various companion ingredients to increase its exfoliating capacity. Here we are referring top 3 methods of lemon using other effective ingredients to drag out blackheads swiftly-
How to Use Lemon for Blackheads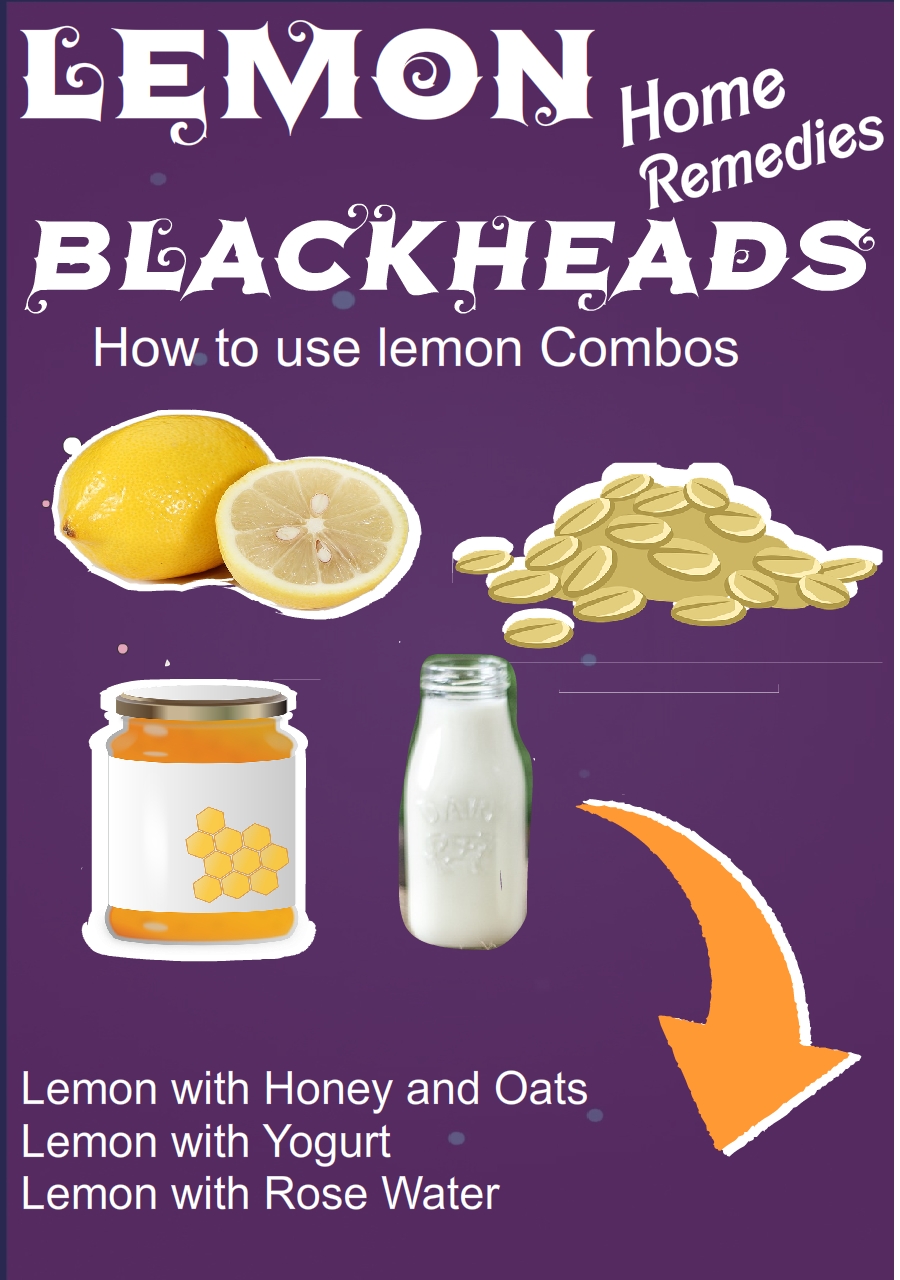 Lemon with Rosewater:
Squeeze the juice from ½ of a lemon and add ½ tbsp of rosewater into it.
Now, stir them well and apply the solution on your entire blackhead-affected area with a single coat.
Let it dry for 15-20 minutes and wash it off with cold water.
Lemon and Yogurt:
Take some juice of a ½ lemon in a similar way and add 1 tbsp of unsweetened yogurt into it.
Then, stir 1 tsp of raw honey along with a pinch of organic salt and combine them well.
Now, apply the paste on your affected area and rub that spot gently for 4-5 minutes in a circular motion with the help of your nails.
Let it sit there for the next 5 minutes and then, carefully wash off the pack with normal water.
Lemon, Honey, and Oats:
At first, squeeze the juice from a whole lemon into a mixing bowl and add 1 tbsp of organic honey into it.
Now, add ½ cup of rolled oats along with ½ cup of warm water into that bowl.
After amalgamating the entire ingredients smoothly, apply the solution on your blackhead-affected area with a thick coat.
Now, rub that area repeatedly in a circular motion for at least 30-40 seconds with the help of our fingertips.
Finally, a wash of the pack and pat dry gently with a soft wash towel.