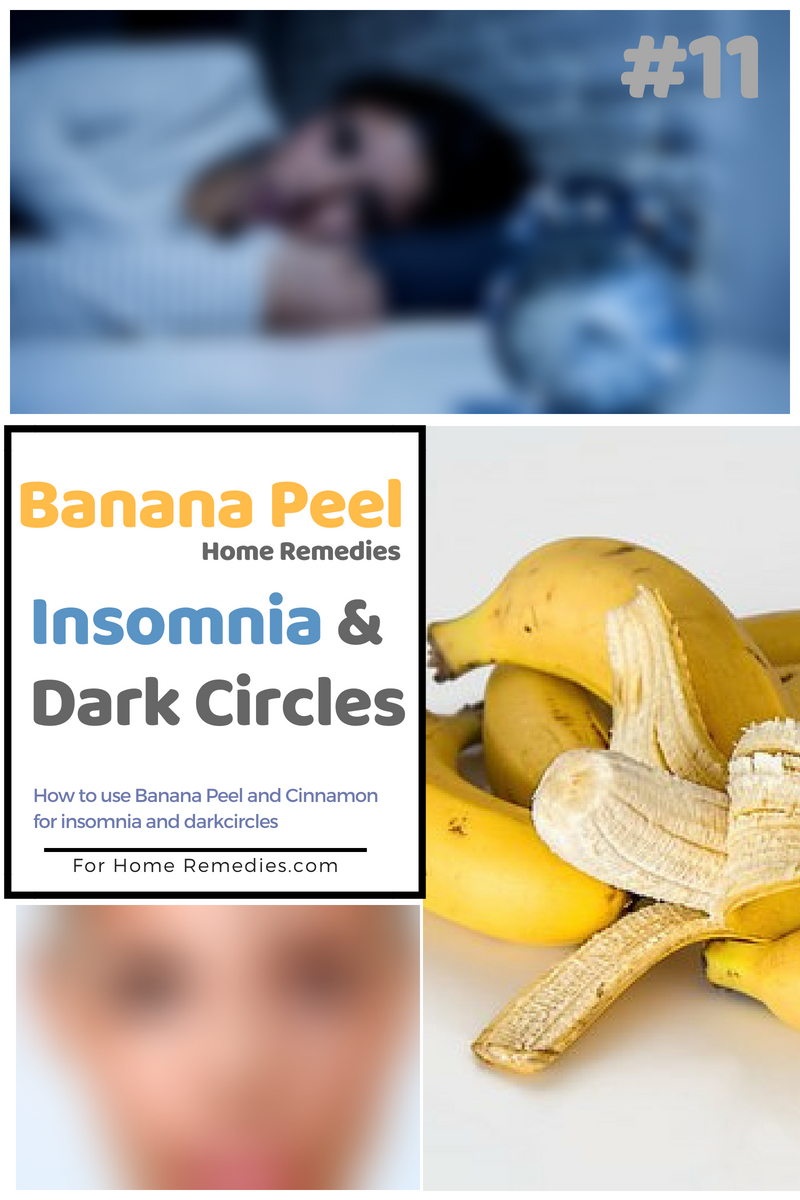 Banana Peel for Insomnia:
Fighting sleeplessness is another magnificent quality of banana peel, that why it's frequently used to combat the signs of insomnia trough the most organic way.
Studies have proven that peel of the banana contains a massive amount of minerals like potassium and magnesium which both are effective for reducing the stress and providing mind calmness. These two minerals directly work on our nervous system and loosen up the muscles with a complete relaxation.
This amount of relaxation is essential to make you fall asleep more effortlessly. This therapeutic excellence of banana increases itself when it gets merged with some other beneficial home ingredient and work more dynamically to fight the symptoms of insomnia.
Cinnamon is one of those kinds which escalate the power of banana peel in the process of reducing sleeplessness naturally. Let's find out how to utilize two simple kitchen ingredients in the combat of insomnia-
How to
At first, wash a ripe banana thoroughly and cut out both ends with a sharp knife.
Then, add some water into a saucepan, place the banana inside it and boil for 10 minutes.
Make sure that the water level surpasses or cover the banana completely with its top level.
Now, strain the water into a cup with the help of a strainer and sprinkle 1 tsp of cinnamon powder into the water.
Simply stir the whole solution once with a spoon and drink as a regular tea.
Try to drink this banana peel tea before going to bed and you will see a much better result on your insomnia symptoms.
Banana Peel for Dark Circles:
Dark circle is a very frightening matter to have for any person, whether the person is a beauty concern or not! A dark highlight under the eyes could ruin your whole get up and beauty along with a weird appearance.
Dark circles not only make you ugly but, they also provide a sick look that can't be acceptable! Though, there are a few expensive market-based products are available within our reach, which claims to banish the dusky circle under our eyes, but the truth is that they merely work on dark circle properly!
Some of them are too slow to work that you need at least 2-3 containers of cream to wipe out the dark circles completely under your eyes! On the other hand, home remedies work much more effectively work quite rapidly on those dark spots and banana peel is the brightest one among them.
The affluence of potassium mineral in banana peel revitalize the dead cells, antioxidant drag out the toxic properties and other beneficial nutrients lighten the dark patches gradually, which will provide you a dark-circle free under eye area that you have always wished. Check out how to use banana peel against dark circle-
How to
Take out a banana peel and wash it out properly.
Now, cut the peel into small square pieces and place into an air-tight container of the bag.
Then, take out some slices, and place them on your eyelids.
Keep them there for half an hour and you will get an optimistic result soon.
Applying some crushed or blended banana peel is as much effective as this process on dark circles.
Just take off the method with cold water or wash off your under eyes area with cold water, when you will take off the blended method to get most effective upshot.