Pumpkin Seeds and Seed Oil for Hair Loss:
Hair loss is a very common crisis of today's human and it is incorporating us for various reasons like overstress, genetic disorder, hormone imbalance, etc.
No matter why and how it attacks you but, once you got bothered by this problem, it is difficult to get rid of hair fall easily.
Usually, insufficiency in nutrients leads impurities to your scalp which provides your hair loss as an inevitable outcome of that impurity! So, is you want to prevent hair fall then, include some essential nutrient in your diet and pumpkin seeds are one of the brightest one among them.
These seeds are rich in a component named androgens which are skilled to lessen the hair fall and nourish your scalp effectively.
Oil of these seeds is rich in antioxidant, anti-inflammatory properties along with several minerals which promote your hair growth amazingly. Let's check out how to consume pumpkin seeds regularly for preventing hair loss naturally-
How to
Soak some pumpkin seeds overnight and eat them on the next day morning on an empty stomach daily.
Or you can sprinkle some peeled pumpkin seeds over your salads or bread or baking preparations as well.
Toasted pumpkin seeds with a sprinkle of olive oil would be another healthy yet tasty treat for your tongue.
Pumpkin seeds' oil is another highly preferably thing here which could speeds up your hair growth by reducing hair fall.
Apply the oil on your scalp directly before bed and rub gently.
Then, let it work until the next morning and wash off with a mild shampoo.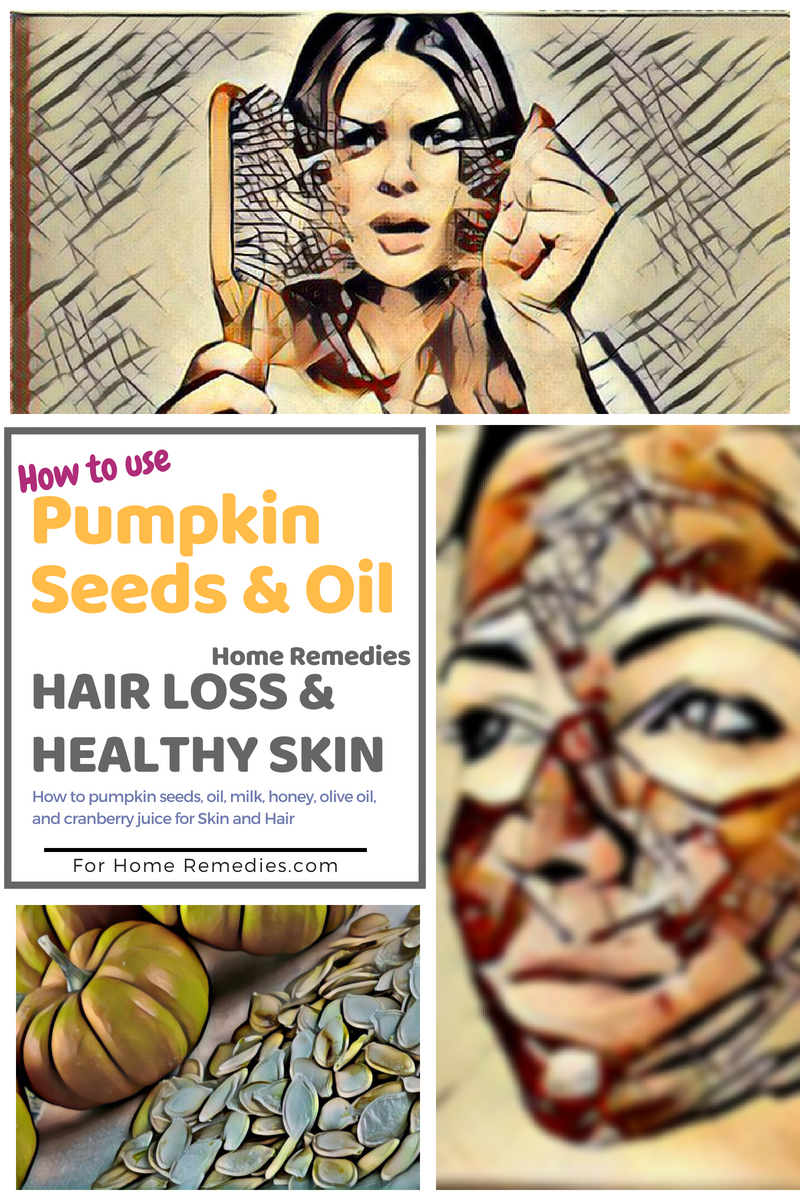 Pumpkin Seeds and Seeds Oil for Skin:
Pumpkin seeds are loaded with anti-aging, antioxidant, and anti-inflammatory compounds which nourish our skin skillfully. It has been observed that the regular consumption or use of pumpkin seeds or its oil could resolve thousands of skin issues proficiently.
This single component diminishes numerous skin impurities, eliminates nutrient deficiency, and fights thousands of skin problems at once!
The essential minerals found in pumpkin seeds are have made this element capable of solving any type of skin issue, whether it is acne, dark spot, scars, dryness, skin tightening, or reducing dead cells!
You can eat a handful of pumpkin seeds on a daily basis to nourish you skin naturally, but apply some face mask using this component would be more effective in this endeavor. So, let's check out a perfect pack using these pumpkin seeds and its oil for achieving an envious skin type-
Method
Take 2 tsp of pumpkin seeds puree, ½ whole milk and ½ tsp of raw honey into a small mixing bowl.
Now, add ¼ tsp of whipping cream or brown sugar (according to your skin type) into that bowl.
Finally, include ¼ tsp of cranberry juice into it and whisk them well into a smooth paste.
Now, apply that paste on your clear face except under-eyes areas and wait for 15 minutes.
After that, rinse the pack off with lukewarm water and pat dry gently.
To apply pumpkin seeds oil for beautifying your skin, take some oil onto your palm and rub it all over your face with the help of your fingertips.
Keep the motion upwards while applying this oil, massage it for a few second in a circular motion, and let it work on your skin for the next 15 minutes.
After that duration, simply wash off the oily pack with lukewarm water and pat dry gently with a soft washcloth.